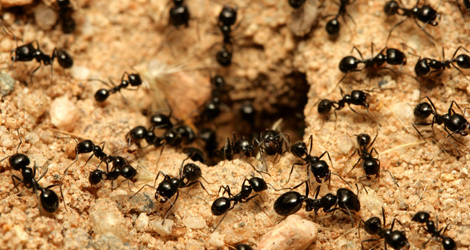 Ants are commonly found pests that are too tiny to gain entry through the tiniest wall hole. They are responsible for contaminating and crawling over the food sources. Is your home or office infested with the pesky ants? If yes, we are right here to assist you. At Royal Pest Control, we have a team of qualified ant exterminators who are capable of eliminating mild to severe ant infestations.
No matter, your residential or commercial premise is under the ant attack, we can take the control of the situation using highly effective and safe products. Our ant exterminators in Brampton, Mississauga, Caledon & Toronto are committed to delivering humane ant removal at affordable costs.
Some Ant Species We Control
Argentine Ant
Carpenter Ant
Citronella Ants
Odorous Ant
Fire Ant
Little Black Ants
Pavement Ant
Pharaoh Ant
Thief Ant
How We Do It?
At Royal Pest Control, we are your locally owned and operated pest control company offering same day ant control in Brampton, Mississauga, Caledon & Toronto. To start with, we'll inspect your home to look for the possible signs of ants and the potential entryways. After this, we will perform a proper identification of the pest species to create a custom ant removal plan that will actually keep them at a bay. Once they are completely eliminated, we offer preventative measures to restrict their entry in the near future.
Why You Need To Call Professionals?
Though ants are tiny insects, they are quite hard to get rid off. Their tiny body size makes them capable of infesting a home or yard from even a wall crack. Moreover, they are attracted towards food sources and clutter. Most of the homeowners follow the common home remedies to remove the pesky ants which are somehow effective but only for a short period of time.
For effective control, it's important to call professionals for service who basically utilizes safe and humane products. Our professionals at Royal Pest Control have been proudly offering long-term ant extermination in GTA. Small or large, we will help you to get rid of pesky pests at a highly competitive price.
Call Us For Durable & Long-Term Ant Control!