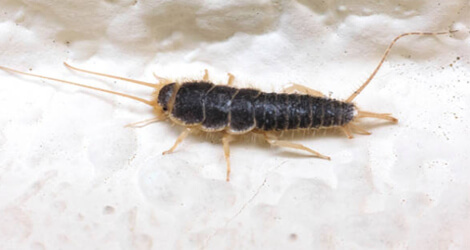 Silverfish is the most common indoor pest which is more than just a nuisance in homes. You can say them excellent climbers which are usually noticed in dark and damp areas like bathrooms or kitchen. A serious infestation of silverfish can become a big trouble in less time, causing health and property hazards. It's better to hire a professional to handle the uncontrollable situation and get quickly rid of silverfish.
Royal Pest Control is the leading team of trained and highly-knowledgeable exterminators who aim to provide permanent silverfish elimination in Brampton, Mississauga, Caledon & Toronto. Our high quality treatments not only provide you relief from such pests but also ensure you don't have a re-occurring problem in your home.
Serious Problems Caused By The Silverfish
Severe Allergies
Silverfish are not a risk for the property but for humans too. Although, they don't transmit diseases but can pose allergy in humans.
Attract Other Pests
The presence of silverfish is also responsible for attracting other pests like beetles. Your property can become a welcoming place for many unwanted species.
Property Damages
When silverfish is inside the home, they can pose a huge damage or ruin the items like files, books, and clothes.
Contaminate Food
If silverfish enters your food storage areas, then it might be a big contamination danger as it can carry bacteria to food resources.
How We Handle Silverfish Infestation?
Once you have scheduled an appointment with us, our skilled exterminator will perform a thorough inspection in your residence or commercial site.
We help in determining the level of infestation and use the most effective silverfish control method to tackle the problem.
With the use of advanced tools and products, we strive to deliver excellent quality silverfish control in your home and workplace.
After completing the treatment, one of our pest experts also provides you with quality advice for silverfish prevention.
Excellent Customer Service.
Fully Licensed Technicians.
Fast & Cost Effective treatment.
Whole week 9am-6pm Customer Support.
Are You Experiencing Silverfish Infestation? Call Us Now!